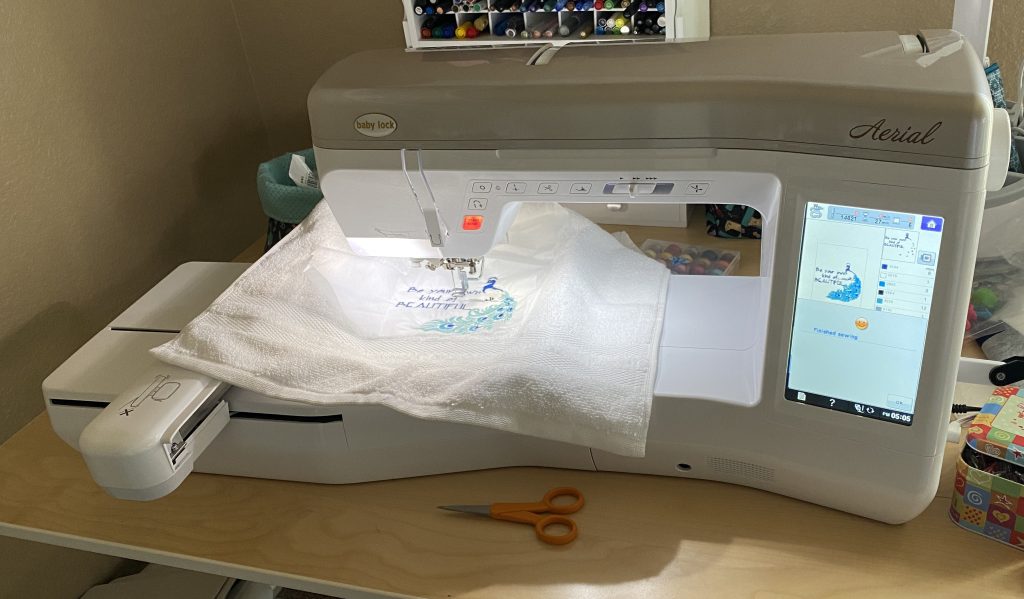 I have received a lot of questions regarding what embroidery machine to buy.  When I decided to buy an embroidery machine, I did my homework. My original machine was a basic Brother sewing machine which has lasted about 25 years and it is still in mint condition. Logically I went to a Brother dealer, and there is where I found out there were all kinds of options. I looked a ton of sewing and embroidery machines.
I researched brands and models and it took me months to decide. Once I chose the brand of machine (Baby Lock for its reputation in sewing, embroidery and serger machines), I compared a lot of models. My decision was based on the size of the largest frame I would be able to work with. Of course, I decided to stay in the middle; not too basic but also not the largest and biggest model, because the bigger it was the more $$$$ it would cost. Also, you can look around at dealers that have slightly used models and that have a warranty. A lot of people buy a model and within a year they want to upgrade their machine, so they trade it in. I bought this model for $1000 less than the original price of a brand new Baby Lock Aerial; it was 9 months old (someone wanted to upgrade to a Solaris, top of the line model).
This Baby Lock Aerial is a sewing/embroidery machine and so far I am completely happy with it. The dealer also gave me a warranty for 5 years with the purchase.